The HDI Gas Powered Air Compressor by DV Systems is equipped with the legendary DV systems 247 heavy duty pump.  Either as a base mount or on a 30 gallon air receiver this HDI Gas Powered Air Compressor , matched with a reliable Honda engine will perform well for many years. Perfect for remote job sites with no electricity or for mobile applications.  These heavy duty pressure lubricated industrial Air Compressors are extremely reliable, easy and economical to maintain and have the highest performance.  Some of our customers include farms, home builders, mobile spray trucks and mobile tire repair vehicles. We at Centrair Air Systems are proud to sell and service these compressors.

Engine: Honda 13 HP
Pump: 247 (2 stage 2 cylinder)
RPM: 800
CFM Displacement: 28.9
CFM Delivery: 25.8
PSI: 150
Receiver: Horizontal 30 Gallon Rated at 200psi
Weight: 517lbs
HP: 13 Gas
Tank: 30 Gal. Hor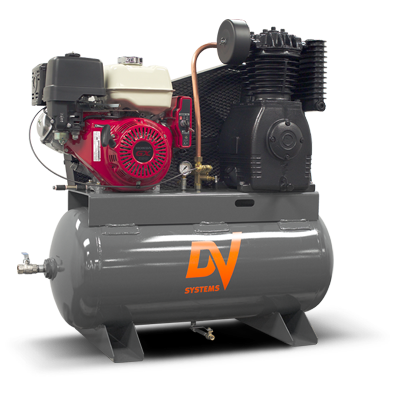 Do you need more information?
Both duty types of air compressors,HDI and SDI, offer excellent warranties and we are proud to sell & service them. Call us to discuss your compressed air needs at 705-722-5747 or email us.