This SINGLE PHASE 10 HP B10VS Rotary Screw Compressor is truly a one of a kind.  The VSD drive allow 10 horsepower on a single phase circuit.  Matched with a rotary screw air end it will supply a constant 37cfm at 145psi.  Tank mounted with a prefilter and refrigerated air dryer this compact compressor will give years of quiet and reliable service. An additional benefit is the economy of a VSD drive that minimizes inrush current at start up and matches air production to air consumption.  DV Systems is a Designer of High-Performance, High-Efficiency Air Technology Solutions. They have been engineering and manufacturing industrial air compressors since 1954 and their commitment to a culture of innovation dates back 100 plus years.  For more information on this SINGLE PHASE 10 HP B10VS Rotary Screw Compressor  download the brochure or contact us.
Premium-Efficiency TEFC Industrial Motor
Motor RPM: 3450 RPM
Single-Phase: 230V / 55A / 60Hz
3-Phase: 200V / 38A, 230V / 35A, 460V / 15A / 575V / 12A, 60Hz
Class F Insulation
Model: B10TDVSD
HP: 10
Sound: 68 dBA
SCFM 145 PSI: 37
Height: 51″
Width: 68″
Depth: 24″
Weight (lbs): 870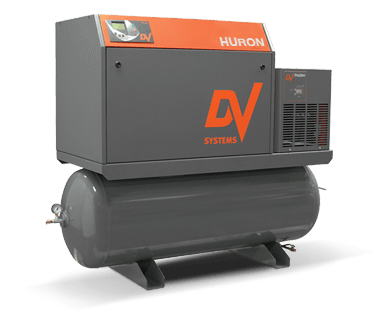 Do you need more information?
We offer a wide range of air compressors and accessories. Call us to discuss your compressed air needs at 705-722-5747 or email us.