DV Systems is a Designer of High-Performance, High-Efficiency Air Technology Solutions. We have been engineering and manufacturing industrial air compressors since 1954 and our commitment to a culture of innovation dates back 100 plus years. Our objective is to provide reliable, innovative products and compressed air system solutions, strengthened by a commitment to exceptional customer service.
Premium-Efficiency TEFC Industrial Motor
Motor RPM: 3450 RPM
Single-Phase: 230V / 55A / 60Hz
3-Phase: 200V / 38A, 230V / 35A, 460V / 15A / 575V / 12A, 60Hz
Class F Insulation
Model: B10TDVSD
HP: 10
Sound: 68 dBA
SCFM 145 PSI: 37
Height: 51″
Width: 68″
Depth: 24″
Weight (lbs): 870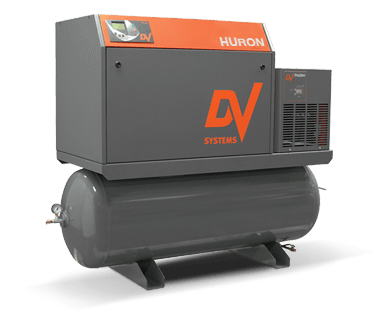 Do you need more information?
Both duty types of air compressors,HDI and SDI, offer excellent warranties and we are proud to sell & service them. Call us to discuss your compressed air needs at 705-722-5747 or email us.