The 7.5HP HDI Duplex Piston Air Compressor by DV Systems is like having 2 compressors on one tank. Space saving, redundancy, higher duty cycle capability and more air are some of the benefits of this duplex compressor system.  2 motors and 2 pumps mounted on an 80 gallon tank ensure a highly reliable compressed air supply for your process.  These pumps can be started and stopped several different ways depending on the controls.  For example, on/off together, second compressor on with 5 second time delay, alternating or alternating with a timer allowing the second pump to start and assist should the first pump run longer than a preset time period.
Peump: 2 x 247 (2 stage 2 cylinder)
RPM: 800
CFM Displacement: 2 x 28.9
CFM Delivery: 2 x 25.8 = 52.6 CFM
PSI: 150
Receiver: Horizontal 120 Gallon Rated at 200psi
Weight: 1105lbs
All models are available in (voltage/hertz/phase) 230/60/1, 200/60/3, 230/60/3, 460/60/3, 575/60/3
Magnetic Starter included
Model: TAS-5552
HP: 7.5
Tank: 80 Gal. Hor
Displacement: 28.9
CFM@175psig: 25<8/p>
CFM@150psig: 25.9
CFM@ 100psig: 26.2
Pump RPM: 800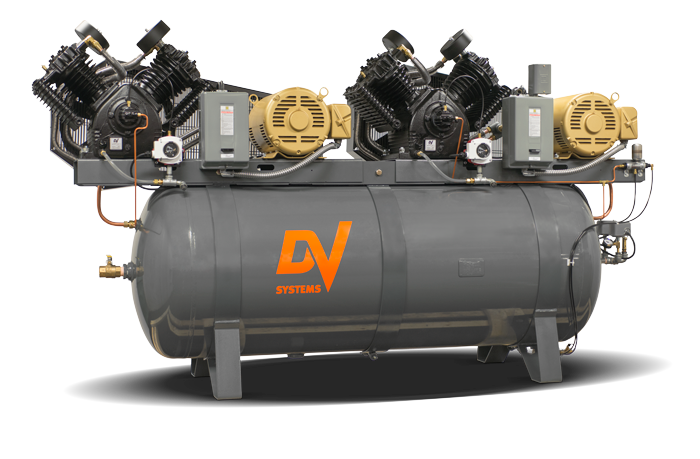 Do you need more information?
Both duty types of air compressors,HDI and SDI, offer excellent warranties and we are proud to sell & service them. Call us to discuss your compressed air needs at 705-722-5747 or email us.