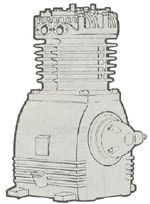 This hardy, dependable pump has been in service for more than 30 years. It is not manufactured any more, but don't worry we have all the parts you need to rebuild this pump. We also have core exchanges – we send you a fully rebuilt 44643 pump and you send us back your old 44643 pump. The exchange will take less than an hour and you will have a pump that is rebuilt up to factory specifications – that's a design life of 20,000 operating hours!
This pump is usually on a DeVilbiss tank, but also can be found branded as Johnson Controls. To identify the pump look at the front (opposite the flywheel) for an identification plate. It will say model 44643. There are other ways to find out what type of pump you have – if your not sure call us at 705-722-5747 Ext.1.
The most common parts are,
Air Filter
357-9701 – Filter for 44643 pump
Maintenance Kit
MK-247 – Contains 1 gallon of oil and 1 air filter
Valve Repair Kit
VRK-643 – Contains all you need to rebuild the old valves
Valve Exchange
Save yourself time – just find out how many valves you need to replace and we will send them to you – then just send the old ones back. Simple. Easy.
Overhaul Kit
OK-643 – Contains all you need to rebuild the entire pump
Pump Exchange
We send you a Rebuilt 44643 pump and you send us the old core.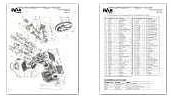 To get the parts breakdown and other information on the 44643 Pump, use the form below or call 705-722-5747.
Thank You!
Do you need more information?
We are also able to provide after-market parts for some compressor parts saving you money! If there is an after-market replacement that is equal or better in quality and we recomend it. You can trust that we will stand behind it!
*Remember to have the MAKE & MODEL number when you call.* Call 705-722-5747 or email us using the form below.