The B5HP rotary screw compressor is a heavy-duty, high-performance & high-efficiency Rotary Screw Air Compressors operating at a 100% duty cycle and is ideal for continuous-use applications. It will provide reliable, dry, clean compressed air is whenever it is required. Innovative component integration results in a compact, quiet air system engineered for efficiency & performance; providing high-capacity air delivery and stable system pressure with minimal installation space. These compressors are available in both tank mount with or without a refrigerated air dryer, and a  compact base mount unit that can be fed directly into your current compressors air receiver.  With a footprint of only 21″ by 34″ it is a perfect choice for compact installations.
High-Efficiency TEFC Industrial Motor
Motor RPM: 1740
Single-Phase: 230V/60
3-Phase: 200V/60, 230V/60, 460V/60 & 575V/60
Model: B5
HP: 5
Sound: 63 dBA
SCFM 145 PSI: 18
Height: 29 5/8″
Width: 34″
Depth: 21″
Weight (lbs): 378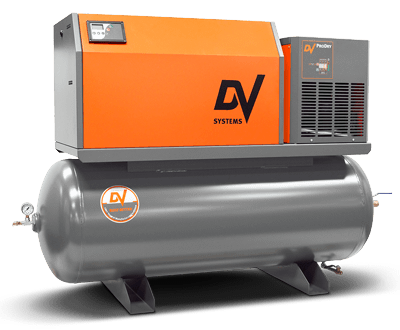 Do you need more information?
Both duty types of air compressors,HDI and SDI, offer excellent warranties and we are proud to sell & service them. Call us to discuss your compressed air needs at 705-722-5747 or email us.