The extremely quiet 5 HP APACHE A5T rotary screw air compressor is ideal for noise-sensitive applications where a reliable supply of compressed air is required. Innovative component integration results in a compact, quiet air system engineered for optimized efficiency & performance, providing high-capacity air delivery and stable system pressure with minimal installation space.  Consider this well priced, Canadian made air compressor as a key piece of equipment in your garage, small body shop or production facility.  Match the quiet 5 HP APACHE A5T rotary screw air compressor with an inline filter and refrigerated air dryer to ensure your air is clean and free from harmful contaminates like oil and water.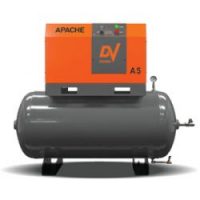 Power: 5 HP
Delivery: 16 SCFM at 145 psi
Sound: 65 dBA
Drive Technology: Fixed Speed, Belt Drive with Auto-Tensioning
Motor: High-Efficiency ODP (Open Drip Proof) Industrial
Motor RPM: 1740
Single-Phase: 230V/60
Model: A5T
HP: 5
Sound: 65 dBA
SCFM 145 PSI: 16
Motor Amp: 23
Height: 29 5/8″
Width: 34″
Depth: 21″
Weight (lbs): 420
Do you need more information?
Call us to discuss your compressed air needs at 705-722-5747 or email us.