The 20HP Variable Speed Rotary Screw Compressor by DV Systems is a robust and reliable air compressor.  The VSD minimizes in rush current and allows the air production to meet air consumption thereby eliminating artificial demand.  It is available as a compact base mount unit or as a tank mount with refrigerated air dryer. At only 71 decibels this quiet compressor is perfect for any production floor or shop.  DV Systems is a Designer of High-Performance, High-Efficiency Air Technology Solutions. They have been engineering and manufacturing industrial air compressors since 1954 and their commitment to a culture of innovation dates back 100 plus years.
Premium-Efficiency TEFC Industrial Motor
Motor RPM: 3540
3-Phase: 200V/53A, 230V/46A, 460V/23A & 575V/18.4A 60HZ
MODEL: D20TDVSD* 2
HP: 20
SOUND: 71 dBA
SCFM 120 PSI: 82
HEIGHT: 70″
WIDTH: 83″
DEPTH: 29 3/4″
WEIGHT (lbs): 1230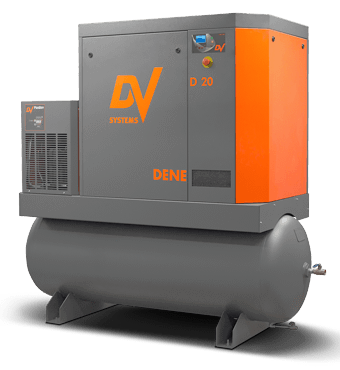 Do you need more information?
Both duty types of air compressors,HDI and SDI, offer excellent warranties and we are proud to sell & service them. Call us to discuss your compressed air needs at 705-722-5747 or email us.