This robust portable 16hp gasoline powered air compressor by Chicago Pneumatic is powered by a 16hp Briggs Vanguard engine.  It is mounted on a 30 gallon air receiver and boasts an impressive 35cfm at 100psi.  Maximum pressure is 175 psi.

Engine: Briggs Vanguard 16HP
Pump:  2 stage 4 cylinder
CFM Delivery: 35
PSI: 175 max
Receiver: Horizontal 30 Gallon Rated at 200psi
Weight: 550lbs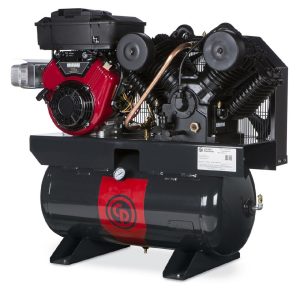 Do you need more information?
Both duty types of air compressors,HDI and SDI, offer excellent warranties and we are proud to sell & service them. Call us to discuss your compressed air needs at 705-722-5747 or email us.