This 5HP SDI Piston Air Compressor – 80 Gallon Tank IS5-10080 is rugged and reliable compressors and ideally suited for the industrial, commercial or professional user. Designed for easy installation it comes with a prewired magnetic starter. This compressor is basically an upgraded version of the IS5-5580.  With its larger slow turning, 4 cylinder pump this compressor will provide plenty of air and is very quiet compared to other 5hp piston style air compressors. Matched with an HTD18 refrigerated air dryer and prefilter this 5HP SDI Piston Air Compressor – 80 Gallon Tank IS5-10080  will  provide reliable air quietly for many years. Built with the care and attention to detail that sets all DV Systems compressors apart from the competition, all models are factory tested and independently certified.
Pump: DEV-100 (2 stage 4 cylinder)
RPM: 435
CFM Displacement: 23.5
CFM Delivery: 18
PSI: 150
Receiver: Vertical or Horizontal 80 Gallon Rated at 200psi
All models are available in (voltage/hertz/phase) 230/60/1, 200/60/3, 230/60/3, 460/60/3, 575/60/3
Magnetic Starter Included – Pre-wired and CSA approved.
Model: IS5-10080
HP: 5
Pump: 4 cylinder / two stage
Tank: 80 gal vertical
CFM: 18@150psi
Starter: Magnetic
Weight (LBS): 710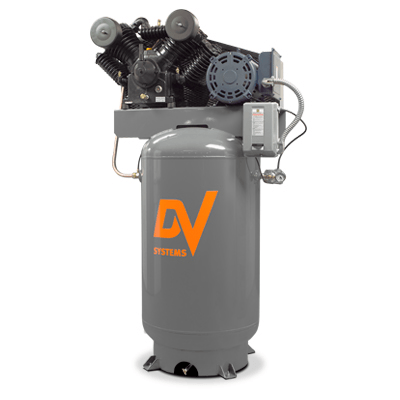 Do you need more information?
Both duty types of air compressors,HDI and SDI, offer excellent warranties and we are proud to sell & service them. Call us to discuss your compressed air needs at 705-722-5747 or email us.