The 5hp HDI piston air compressor by DV Systems is a heavy duty, durable and dependable air compressor built to withstand the most demanding industrial environments.  Equipped with the cast iron 247 (new version of the 44643 Devilbiss pump) with low RPM and pressure lubrication this compressor will give many years of reliable and trouble free operation. Due to the heavy duty design this pump can run at much higher duty cycles than its Standard Duty counterparts. The pump comes with a 7 year warranty.  Protect your equipment and match this 5HP HDI piston air compressor with an inline filter and the HTD18 refrigerated air dryer.
Pump: 247 (2 stage 2 cylinder)
RPM: 635
CFM Displacement: 23.4
CFM Delivery: 19.8
PSI: 150
Receiver: Vertical or Horizontal 80 Gallon Rated at 200psi
Weight: 694lbs
All models are available in (voltage/hertz/phase) 230/60/1, 200/60/3, 230/60/3, 460/60/3, 575/60/3
Magnetic Starter included
Model: TAP-5052
HP: 5
Tank: 80 Gal. horizontal or vertical
CFM@175psig: 19.1
CFM@150psig: 19.8
CFM@ 100psig: 20.3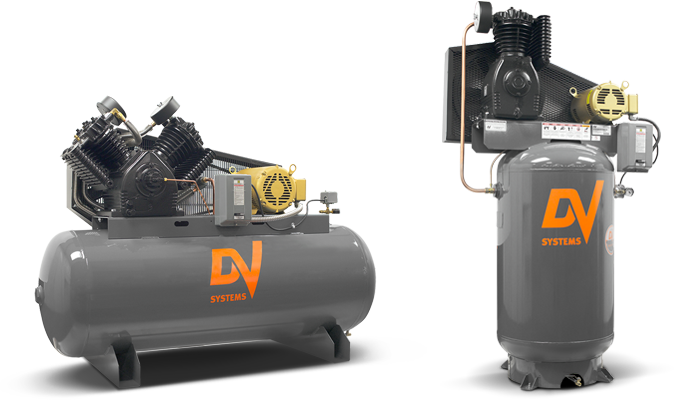 Do you need more information?
Both duty types of air compressors,HDI and SDI, offer excellent warranties and we are proud to sell & service them. Call us to discuss your compressed air needs at 705-722-5747 or email us.