The Duplex 5hp air compressor by DV Systems is like have 2 compressors on one tank. Space saving, redundancy, higher duty cycle capability and more air are some of the benefits of this duplex compressor system.  2 motors and 2 pumps mounted on an 80 gallon tank ensure a highly reliable compressed air supply for your process.  There are also several options available for controlling these units such as time delay start on second motor and digital controlled alternator based on pressure and run time. Contact Centrair Air Systems for your specific needs.
Pump: 2 x 247 (2 stage 2 cylinder)
RPM: 635
CFM Displacement: 2 x 23.4
CFM Delivery: 2 x 19.8 = 39.6 CFM
PSI: 150
Receiver: Horizontal 120 Gallon Rated at 200psi
Weight: 1350lbs
All models are available in (voltage/hertz/phase) 230/60/1, 200/60/3, 230/60/3, 460/60/3, 575/60/3
Magnetic Starter included
Model: TAP-5562
HP: 5
Tank: 80 Gal. Hor
Displacement: 23.4
CFM@175psig: 19.1
CFM@150psig: 19.8
CFM@ 100psig: 20.3
Pump RPM: 635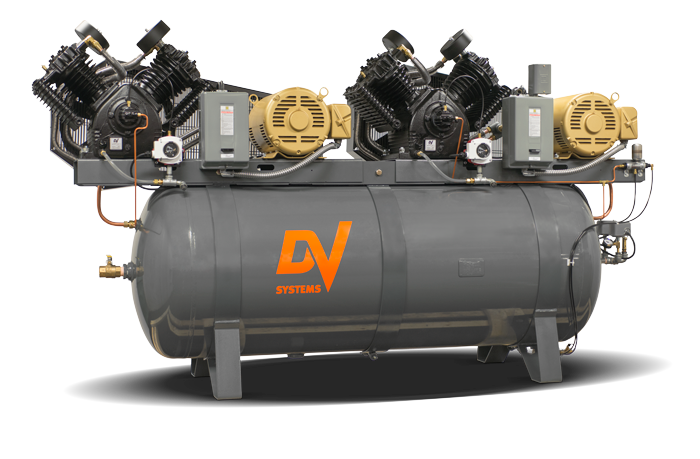 Do you need more information?
Both duty types of air compressors,HDI and SDI, offer excellent warranties and we are proud to sell & service them. Call us to discuss your compressed air needs at 705-722-5747 or email us.