The 30hp HDI piston air compressor by DV Systems is a heavy duty, durable and dependable air compressor built to withstand the most demanding industrial environments. It has been in production for more than 40 years (older models were equipped with the very similar 445 pumps). Equipped with two cast iron 447 pumps with low RPM and pressure lubrication this compressor will give many years of  reliable and trouble free operation.  It comes mounted on a 240 gallon horizontal air receiver.  Matched with an ASD100 refrigerated air dryer and prefilter and you will have clean, dry air for your plant or shop.
Pump: 2 x 447 (2 stage 4 cylinder)
RPM: 845
CFM Displacement: 124.1
CFM Delivery: 99.9
PSI: 150
Receiver: Horizontal 240 Gallon Rated at 200psi
Weight: 2550lbs
All models are available in (voltage/hertz/phase) 200/60/3, 230/60/3, 460/60/3, 575/60/3
Model: VAY-5081
HP: 30
Tank: 240H
Displacement: 124.1
CFM@175psig: 99.3
CFM@150psig: 99.9
CFM@ 100psig: 101.5
Pump RPM: 845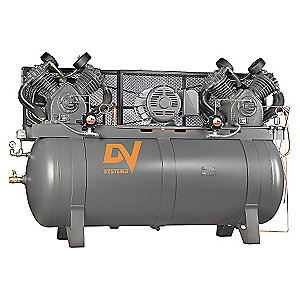 Do you need more information?
Both duty types of air compressors,HDI and SDI, offer excellent warranties and we are proud to sell & service them. Call us to discuss your compressed air needs at 705-722-5747 or email us.