The 10HP HDI Piston air compressor by DV Systems is equipped with the legendary 447 pump.  Quiet, slow turning and reliable make this a great selection for your compressed air needs.  With forced oil lubrication this pump will last for decades.  Match this compressor with a DV Systems HTD 37 refrigerated air dryer to remove harmful water from your air lines.  Available with or without a prewired magnetic starter. This is a Canadian made product manufactured in Barrie, Ontario and distributed by Centrair Air Systems.
Pump: 447 (2 stage 4 cylinder)
RPM: 590
CFM Displacement: 43.3
CFM Delivery: 36.8
PSI: 150
Receiver: Vertical or Horizontal 120 Gallon Rated at 200psi
Weight: 900lbs/1070lbs
All models are available in (voltage/hertz/phase) 200/60/3, 230/60/3, 460/60/3, 575/60/3
Magnetic Starter included
Model: VAT-5063
HP: 10
Tank: 120 Gal. Hor
Displacement: 43.3
CFM@175psig: 36.5
CFM@150psig: 36.8
CFM@ 100psig: 37.3
Pump RPM: 590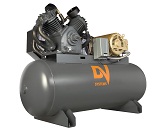 Do you need more information?
Both duty types of air compressors,HDI and SDI, offer excellent warranties and we are proud to sell & service them. Call us to discuss your compressed air needs at 705-722-5747 or email us.